There are so many reasons to love this cake. Fragrant ingredients like orange and cardamom and no flour, butter or oil. A cake with a dense, pound cake-like texture, made without flour, butter or oil? Sounds impossible right? this whole orange and almond flour cake is just that. A cake without the ingredients listed but results in a dense pound cake-like texture with the sweet aroma of orange and almonds. It is made with whole oranges, peel and all! The oranges are boiled then blended to form a thick paste-like texture, which combined with eggs, ground almonds and baking powder results in a perfect cake. Added cardamom adds to the appeal of this cake. It is reminiscent of a Persian love cake or Spanish and Italian orange sponge cakes. It also reminds me of semolina cake but a less calorific version.
How to Make Whole Orange Cake
I came across an image on Pinterest, pinned from the Blog Diary of a Ladybird. The author credits her source as a recipe from Gourmet Traveller (December 2009/January 2010 issue). I simply had to try it myself. It is by far one of the best flour less cake recipes. My first attempt did not work out too well so I made a few adaptations from the source of my inspiration. I found the mixture to be too weak and required a longer cooking time. This resulted in a very burnt cake on the outside. It was also a bit too bitter, I recommend sweet or ripe oranges. I also reduced the orange quantity using one and a half oranges instead of two. I reduced the sugar content and added stevia. I baked the cake at 150 degrees Celcius. This worked much better than my first attempt. The original recipe served the cake with an orange blossom yoghurt. I used mascarpone cream instead.
To make this cake, I removed boiling the oranges the day before you intend making the cake, or at least a good few hours ahead so that they have time to cool.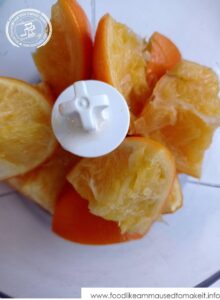 The oranges are boiled whole. Once cool cut into quarters and remove seeds. Blend until thick paste forms. This is added to ground almond, baking powder cardamom and eggs.
Whole Orange Almond Cake with Cardamom Recipe
Whole Orange Almond Cake with Cardamom
This is by far one of the best gluten-free cakes I've ever tried. Whole oranges combined with eggs and ground almonds give this cake it's unbelievably perfect texture.
Ingredients
1,5 oranges
5 eggs
2 tablespoons sugar
2 tablespoons stevia
1 teaspoon baking powder
1/2 teaspoon bicarb
300g almonds
150 g mascarpone
2 tablespoons icing sugar
1 teaspoon cardamom powder
2 tablespoon almond slivers for decorations
Instructions
Prepare the oranges a few hours or a day before you intend making the cake
place in a deep pot. Cover with water and top with baking paper over the water. Cut a hole in the baking paper to allow steam to escape. This will allow for gentle cooking.
Boil for 2 hours. Remove from heat. Cool
Cut the oranges in quarters. Remove seeds
Blend until smooth.
Place the eggs in a bowl. Beat with sugar and stevia. Add the orange mixture.
Add almond flour, cardamom, baking powder and bicarb
Combine until a thick batter forms.
Line a cake pan with baking paper. I used a 14cm round pan.
Pour mixture into the pan.
Bake for 90 minutes at 150 degrees celsius in a preheated oven.
Allow to cool . Prepare the mascarpone cream
Combine mascarpone and icing. Apply onto the cake.
Sprinkle with almonds.
Sodium (milligrams)
234.91
Cholesterol (grams)
113.44
Similar Recipes
https://foodlikeammausedtomakeit.info/
whole orange almond cake with cardamom
Baking
Gluten free baking
Did you make this recipe?
Tag
@foodlikeamma
on instagram and hashtag it #foodlikeammausedtomakeit; #southafricanrecipes;#glutenfreecakes