Whole Wheat Roti vs White Flour Roti
The South African soft butter roti I grew up on, is typically made from white flour or even cake flour. Delicious as they are, they are not a friend of blood sugar levels or heart health. With more readers and myself making homemade bread and roti than ever before thanks to COVID-19, it seems necessary to consider new and healthier ways of making old favourites. Whole wheat roti is considered healthy enough for its daily consumption on the Indian subcontinent. It is made using unrefined or brown flour (also known as atta). This type of flour is considered healthier than its refined counterpart white flour (maida). Most recipes include just two ingredients wholewheat flour and water and the minimal use of oil and butter supplement its fame as a healthier choice than white flour-butter roti. This recipe is an adaptation of Amma's soft roti recipe. I recently discovered it mentioned in the South African Sunday Times as one of the best roti recipes you will stumble across. I replaced the white flour with wholewheat flour. For added flavour, I included gram flour(chickpea flour). I also substituted seed oil with olive oil instead. The added butter after cooking is optional. The result is soft brown roti. The fact that they are less calorific makes this type of roti more lovable.
Is Whole Wheat Roti Healthy?
Whole wheat roti is made with flour, which means that it is complex carbohydrate. When consumed in moderation and as part of a healthy diet and exercise plan it can be considered healthy. It is less calorific than roti made with white flour. This flour also contains more nutrients and fiber than refined flour. The fiber content makes it a slow-release carbohydrate which also keeps you fuller for longer without spiking blood sugar levels.
Healthy as wholewheat flour may be, it still contains gluten. This makes it a very good substitute for white flour in any recipe. It does not require additional white flour for support, it can simply be substituted in equal quantities.
How to Make Whole Wheat Roti
Making wholewheat roti is no different from white flour roti. It requires the same ingredients, equipment and technique.
Boiling Water
Allow the dough to rest (cover with a cloth)
A hot thawa
The instructional video below was made using white flour, but the same principles apply.
Whole Wheat Roti Recipe
I used the same ingredient as the soft roti recipe except for the flour. I added ½ cup of chana flour (gram or chickpea flour) for added flavour and nutrition. I used olive oil instead of vegetable oil.
Whole Wheat Roti Recipe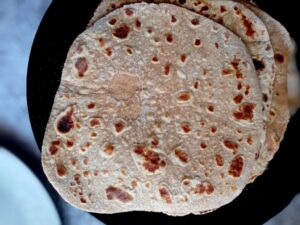 Whole Wheat Roti Recipe
Whole wheat roti is made using brown flour, a variety of flour that is made using the entire wheat kernel. It is more nutritious than it's refined counterpart white flour. This roti recipe is modest in the use of oil and butter
Ingredients
1 1/2 cups whole wheat flour
1/2 cup gram flour (besan, chickpea flour)
1/2 cup wholewheat flour for dusting the work surface
1 cup of boiling hot water
2 tablespoons olive oil
1 tablespoon of butter
Instructions
Prepare the ingredients. Place the flours in a large mixing bowl.
Boil the water.
Add the boiled water into the mixing bowl.
Mix until the dough resembles large crumbs. Mix with a spoon until you are able to work with your hands. The dough will be very hot with the addition of the hot water.
Remove from the bowl and work with your hands to form a soft dough. Use some of the flour reserved for dusting to dust the work surface this will mould the dough and prevent it from sticking to the surface.
Knead the dough for at least 5-8 minutes this helps bind the gluten in the flour which will result in soft roti. Once the desired dough texture has been achieved, place in a bowl and cover.
Allow resting for 5-10 minutes while you heat the pan for cooking.
Break the dough into three portions. Roll each portion flat then roll like a snake form. Cut into smaller pieces then press the now cylinder shapes into form by pressing with your hand. This will form circles for rolling into round rotis.
I prefer rolling all before cooking. Use the flour to dust the surface before rolling. This will prevent the roti from sticking to the surface,
Once rolled place each roti on the pan to cook.
The pan must be very hot. Place the roti on for a minute. Turn and cook the reverse side for another minute or until bubbles form or the bread rises.
Turn once more to cook the reverse side. Once it puffs up remove form stove and place under a clean cloth.
Optional, rub with a same piece of butter or enjoy plain.
Once all the rotis are cooked, keep covered until served.
Rotis can be stored at room temperature for up t 3 days. To reheat simply heat on a pan.
Sodium (milligrams)
11.29
Similar Recipes
How To Make Soft Roti
oat flour pancakes with banana
Puri Recipe South Africa
Parotta Roti Recipe
Did you make this recipe?
Tag
@foodlikeamma
on instagram and hashtag it #foodlikeammausedtomakeit;,#bestsoftroti