We did not celebrate Christmas in the religious sense of the word, but childhood in South Africa was marked by a few Christmas traditions eg. sending and receiving Christmas cards, having a Christmas tree, making Christmas cake and spending the day with family. This meant ample time at the dining table. One of Amma's classic Christmas day meals included her chops chutney and homemade potato chips for brunch. This Durban style chops chutney is succulent lamb chops punctuated by
onion, tomato halves and chopped fresh green chillies and topped with fresh coriander. Tomatoes were cut
in half and served intact or smashed to form a tomato chutney. Like several of her recipes, it was ceremoniously done, in this instance made in her green enamel frying pan, used only for cooking on Christmas Day.
How to make Durban style
Chops Chutney
There are two ways of preparing this recipe. The first is to brown the meat then remove from the pan. Then add onions, tomatoes and spices to make a chutney. The chops were placed back in the pan to absorb the flavour of the chutney.
How to make Durban
Chops Chutney Like Amma Used To
Amma's method was to brown the chops on either side then add finely chopped onion, halved tomatoes and green chilli slices. Sprinkle with a pinch of salt and brown sugar. The sugar and chilli combination accounts for the piquant taste of this dish, The pan was covered until the tomatoes were soft then uncovered to remove excess moisture. The tomato halves were sometimes served intact with onion and chilli slices or smashed to form a chutney. It was served by placing a lamb chop on the plate and spoonful of chutney on top.
I prefer using a non-stick pan for all cooking, it requires minimal use of oil. When cooked in such a pan, no oil is required. I added 1 tablespoon of olive oil for flavour.
Durban Chops Chutney Recipe
>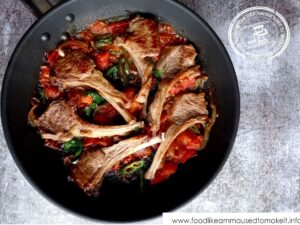 Durban Chops Chutney Recipe
Ingredients
1 kg lamb chops
3 large ripe tomatoes
1 medium-sized onion
3 green chillies
a bunch of coriander to garnish
1 tablespoon of olive oil
1 teaspoon brown sugar
salt
Instructions
Prepare the ingredients. Halve the tomatoes. Slice onions fine and chillies into rounds.
Heat a non-stick pan on medium-high heat. Place the chops on. Brown for 2-3 minutes on each side.
Place the tomatoes in between the chops. Sprinkle with onion, chillies, salt and brown sugar.
Cover and allow to cook for 15 minutes.
Remove the lid and allow moisture to evaporate, turn the chops.
Remove from heat and serve warm.
Serve tomatoes while or remove chops then smash tomatoes to form the chutney.
Sodium (milligrams)
235.48
Cholesterol (grams)
151.67
Similar Recipes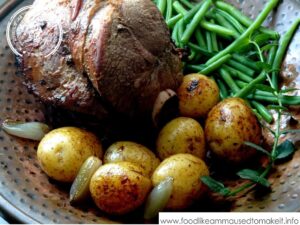 Easy Lamb Pot Roast Recipe
durban mutton curry recipe
Mutton Fry Recipe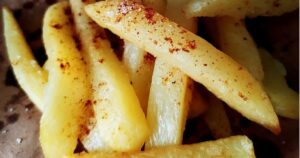 How To Make South African Slap Chips
https://www.foodlikeammausedtomakeit.info
how to make chops chutney Durban style; Durban lamb chops chutney recipe,durban chops chutney recipe,best chops chutney in durban,chops chutney durban style,
Durban; South African Food
Did you make this recipe?
Tag
@foodlikeamma
on instagram and hashtag it #foodlikeammausedtomakeit;,#bestchopschutney