I have a few recipe variations for making stuffed mushrooms. This
chutney and cheese stuffed portobello recipe is my favourite because it
reminds me of a childhood favourite – Amma's tomato chutney. This recipe is portobellos
drizzled with a bit of olive oil, baked in the oven then topped with
piquant tomato chutney, feta or homemade paneer. Bake until the cheese melts, top
with fresh coriander. Enjoy a gluten-free, vegetarian and guilt-free
lunch, dinner or snack.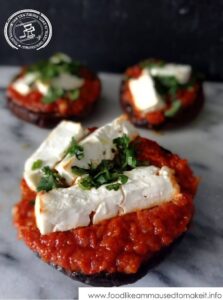 Why eat Portobello Mushrooms
Portobello mushrooms are essentially the mature form of brown Agaricus bisporus (commonly known as Swiss brown mushroom, Roman or Italian brown mushroom). Mushrooms are one of my favourite meat substitutes. Apart from taste and texture, its high vitamin D content makes them my essential meatless Monday ingredient, especially on cold, dark winter ones like today. They can have caps of up to 15cm in diameter, making them ideal for stuffing. They are low in calories and are the perfect canvas for creating various stuffed flavour combinations.
How to Prepare Stuffed Portobello Mushrooms
To
prepare this type of mushroom for stuffing, wash with cold water then
pat dry with a towel. Scrape out gills with a teaspoon and cut the stem.
The stem can be reused. I chop into small pieces and freeze for making mushroom soup. This will provide a hollow for filling with stuffing.
I prefer
to bake the mushrooms first before adding stuffing as this allows excess
moisture to escape before adding the stuffing and other toppings.
How to Stuff Portobello Mushrooms
This recipe features a chutney
stuffing. It is simply tomato chutney added into the cap then covered
with feta cheese. Baked until the cheese melts.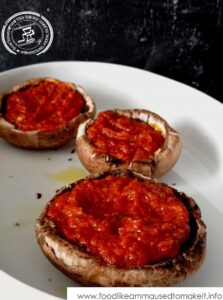 Chutney and Cheese Stuffed Portobello Mushrooms
This chutney and cheese stuffed portobello mushroom recipe is easy to make as it is delicious. Use leftover chutney or make it fresh for a spicy variation of the much-loved portobello mushroom.
Ingredients
6 Portobello Mushrooms
3 ripe tomatoes
1 medium onion
3 tablespoons olive oil
salt
2 jalapeno chillies
1/2 teaspoon Durban Masala
1/2 teaspoon cumin and coriander powder
150g feta cheese
1 teaspoon brown sugar
salt
Instructions
Prepare the Chutney. Soak the tomatoes in hot water for 10-15 minutes. This will help remove the skin.
While the tomatoes soak, prepare the portobello mushrooms. Wash and pat dry. Use a teaspoon to scrape out the gills. Cut the stem off.
Once the mushrooms are cleaned. Drizzle with olive oil and bake for 10 minutes.
While the mushrooms bake, prepare the chutney. Remove the skin of the tomatoes. Cut in half and remove the seeds and excess water. Grate and set aside.
Heat a heavy-based pan on medium heat. Add two tablespoons olive oil. Add thinly sliced onion. Fry until soft. Add chillies. Add powdered spice. Fry for a minute or two. Add tomatoes. Add sugar and salt. Cover and allow to simmer until dry.
Remove the mushrooms from the oven. Wipe off excess water. Fill with chutney. Top with feta slices. Bake until the cheese is soft or slightly brown.
Top with fresh coriander. Enjoy!
Sodium (milligrams)
867.35
These nutritional values serve as a guide only.
Similar Recipes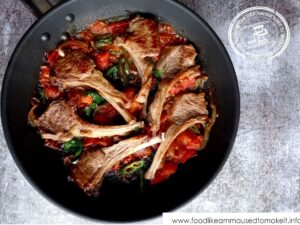 Durban Chops Chutney Recipe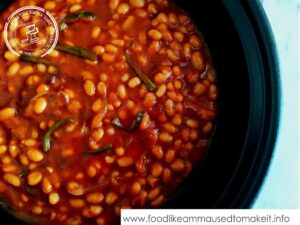 Baked Beans Curry Recipe
mushroom biryani recipe
https://www.foodlikeammausedtomakeit.info
stuffed portobello mushrooms ,stuffed portobello mushrooms vegan ;stuffed portobello easy chutney and cheese mushrooms; spicy stuffed portobello; indian style portobello
Vegetarian
Vegetarian; Fusion food; Indian; South African Indian
Did you make this recipe?
Tag
@foodlikeamma
on instagram and hashtag it #foodlikeammausedtomakeit;#chutneystuffedportabellos
More Stuffed Portobello Ideas
Mexican Stuffed Portobello: combine minced meat, fresh jalapenos, black beans and red onion. Top with cheddar cheese.
The Mediterranean: combine Parmesan, black olives, red onion and tomato.
Chicken; Leftover roast chick with mayo and red onion, cheese
How to serve Stuffed Portobello
With a green salad or on its own as an appetizer.
How to Store Portobello Mushrooms
This recipe can be made then freeze. To thaw simply bake in the oven.