Sweet Rice, that delicious Indian Rice pudding synonymous with prayers. I recall Amma making it for Porridge Prayers, Fasting Prayers, Lakshmi Prayers and 'Dead Peoples Prayers'. Amma's Sweet Rice Recipe often contained sultanas and chopped bananas. I am not a fan of banana so I have omitted this from the recipe. When Amma cooked sweet rice she would soak the rice a few hours before cooking. This was Amma's dictum when cooking any kind of rice. It had to be soaked – in her words 'washed until the water comes clear'. She used to say that if you didn't do that then the rice would be sticky. This is not the case when cooking sweet rice – the stickier the better!
Table of Contents
South African Sweet Rice Recipe
Sweet Rice is commonly cooked with rice known as White Rice in South Africa. If you find yourself abroad then suitable substitutes include Pudding Rice or Milk Rice. You can find these in the grain section or dessert section of most international supermarkets.
For this sweet rice recipe, I have opted not to use butter but cream instead. My sweet rice recipe is a combination of Amma's Sweet Rice and Risealamande. I find that the cream gives the Sweet Rice a softer, ricer texture and tastes less buttery. I have used one cup of Rice. To make large quantities simply double all ingredients.
Ingredients for Making Sweet Rice
white rice (or a similar substitute)
milk
cream
sugar
salt
cardamom powder
Step By Step Easy Sweet Rice Recipe
1. Soak the rice a few hours before you plan to cook sweet rice.
3. Rinse the rice -drain off all excess water from the soaked rice. Place in a pot. Add the milk and boil on low heat for 30 minutes. Once the milk is absorbed by the rice add sugar, salt and cardamom powder.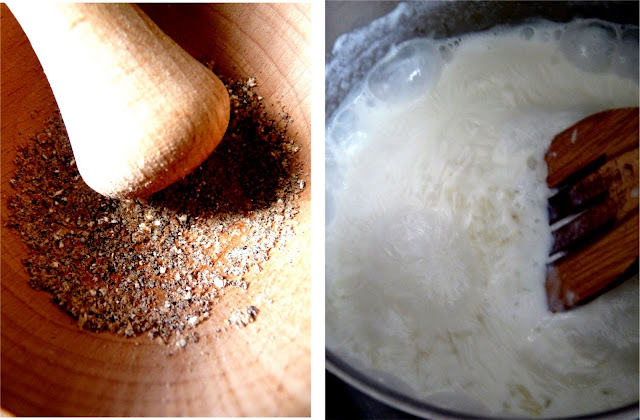 4. Add the cream, stirring gently. Simmer for 10 minutes on low heat. Remove from stove. Allow to cool.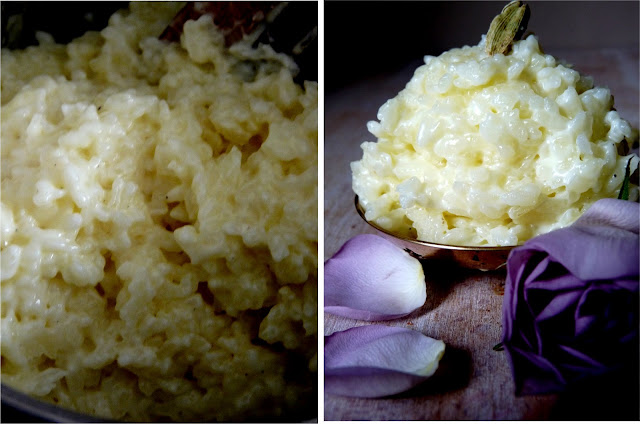 5. The longer you leave the sweet rice to rest the better the consistency will be. The cream is absorbed by the rice forming a thick pudding-like texture.
6. Serve as desired.
Sweet Rice Recipe Variations
Sweet Rice with Milk and Butter
If you prefer butter instead of cream then simply replace the cream with butter. Once the milk has been absorbed into the rice. Add the butter then sugar and cardamom.
More Prayer Food
I have received several requests for help with preparing sweet rice and a few other treats for Purtassi. These will follow during the course of the next week. Keep up to date by checking out the Purtassi Recipes Page or the Index of South African Indian Prayer Food
Easy Sweet Rice Recipe
More Prayer Food Recipes